2018 Molokai Bar 60th Anniversary
Reserve your place for my presentation at the Hukilau HERE.
We all know today's Molokai Bar with it's nautical theme of a galley ship, but until 1971, it was a different place.
After the huge success of the opening, they realized they needed a bigger bar to seat waiting guests (and get money out of them during their wait!). The Surfboard Bar only seated 19. So they decided to enclose the covered drive up area and make it the Molokai Bar.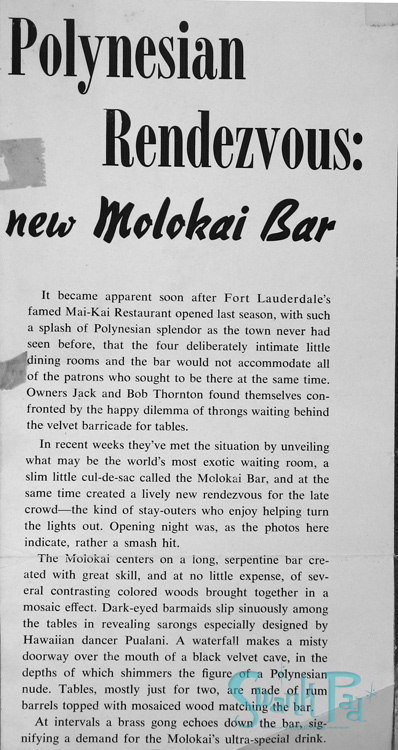 In the fall of 1958 (the Mai-Kai was closed for the summers back then) the Molokai opened.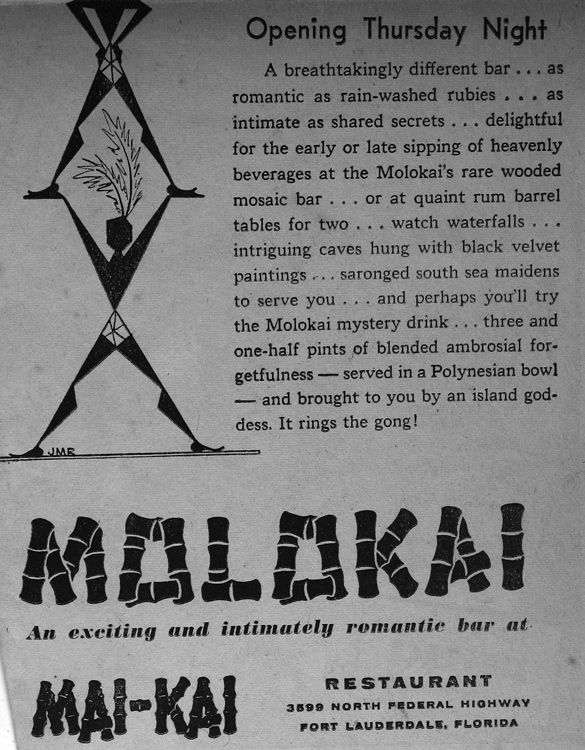 Caves with black velvet paintings? Yes! I have the only images (in color) of these caves and paintings that I will share at Hukilau 2018.
They also added the sarong clad serving girl and the Mystery Drink with the Molokai Bar. They needed a special lady to be the first Mystery Girl and they found her in Playboy Playmate Myrna Weber.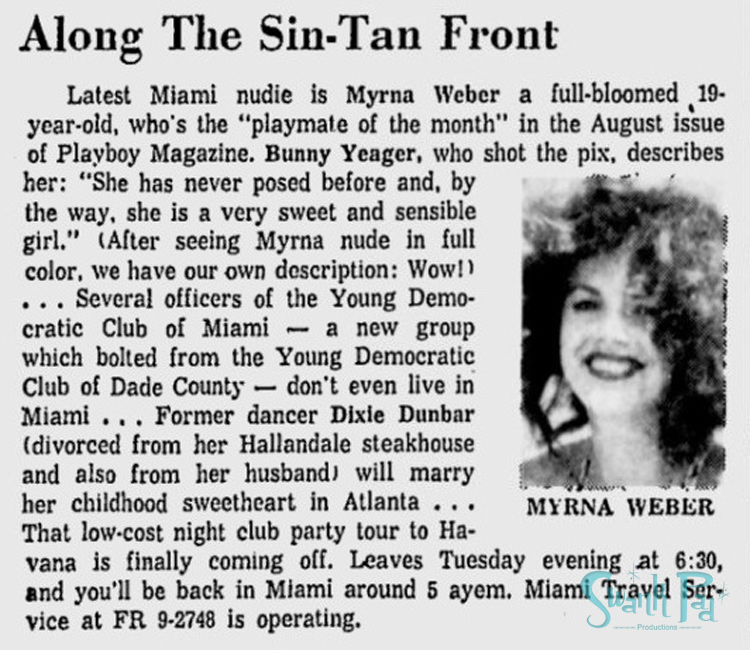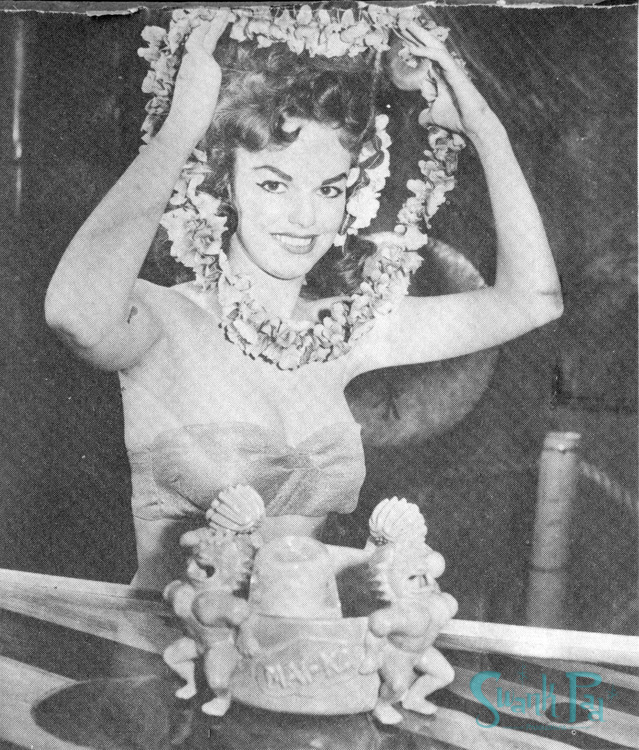 This is Myrna on opening night of the Molokai in the costume of the time.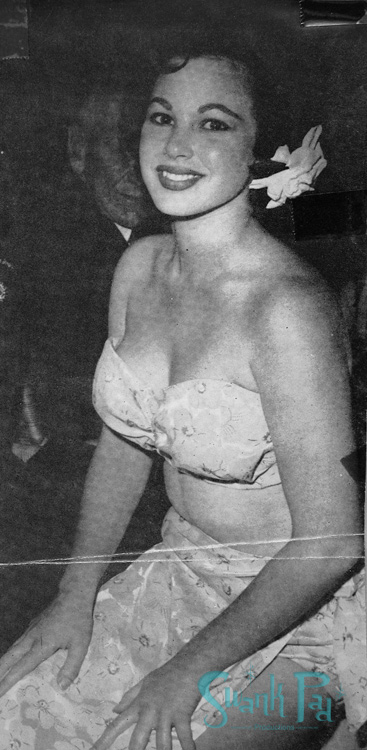 Here's Myrna in Playboy.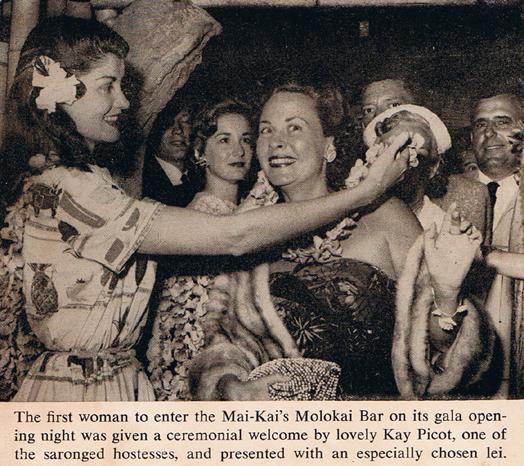 Shaheen dress wearing assistant manager's wife Kay Picot welcomes the first fur coat wearing guests into the Molokai Bar.
Lynne "Hanelo" Hanken (they Polynesianed her name a bit) was also a first Mystery Girl, who also turned out to be too young to serve drinks.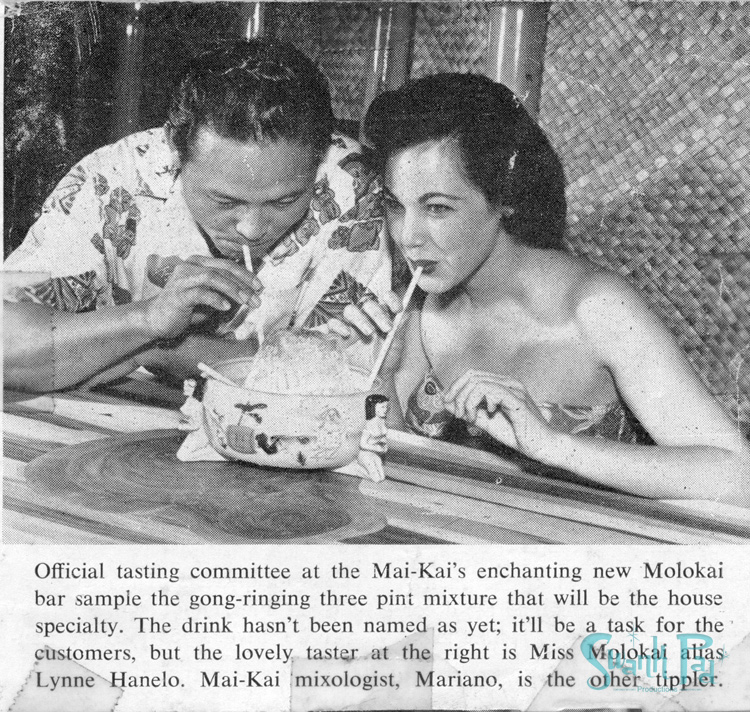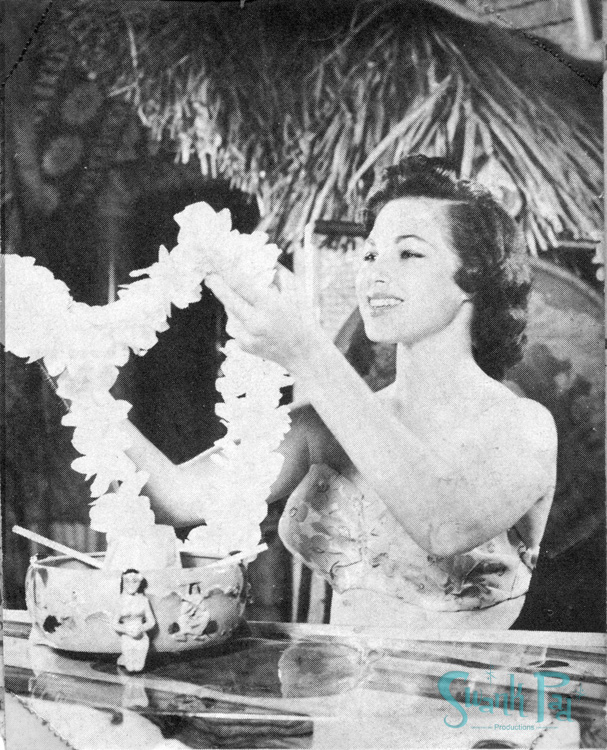 Note the pre-opening bowl which was a Trader Vic's style.
Pualani Kanemura was a first Mystery Girl as well. She also designed and created the costumes.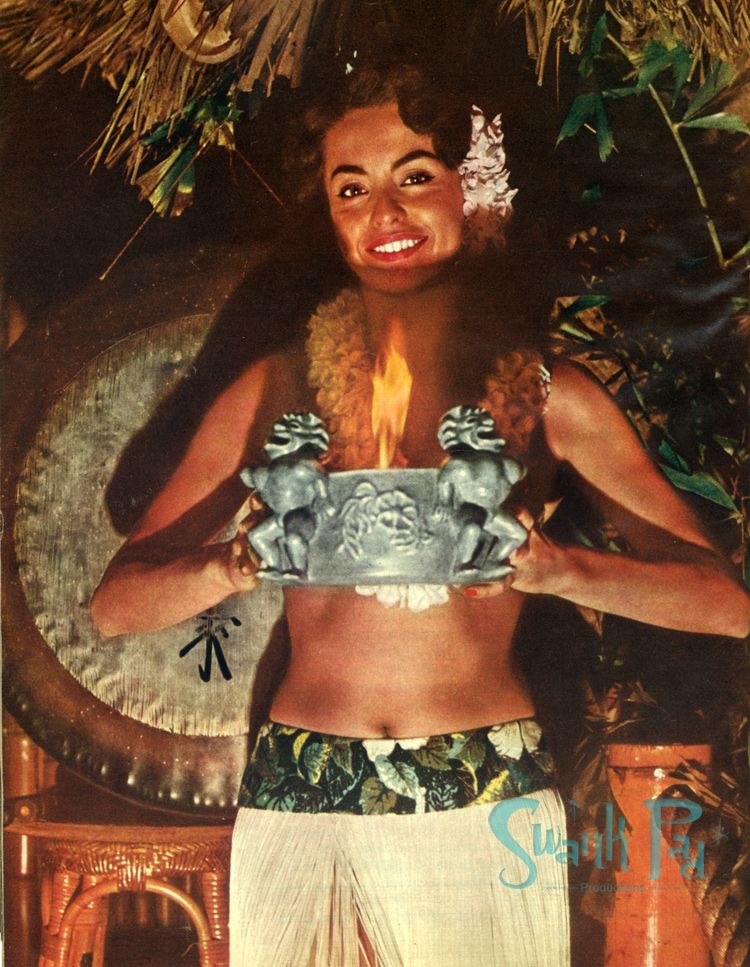 Another preview ad. "Three pints of ambrosial forgetfullness"…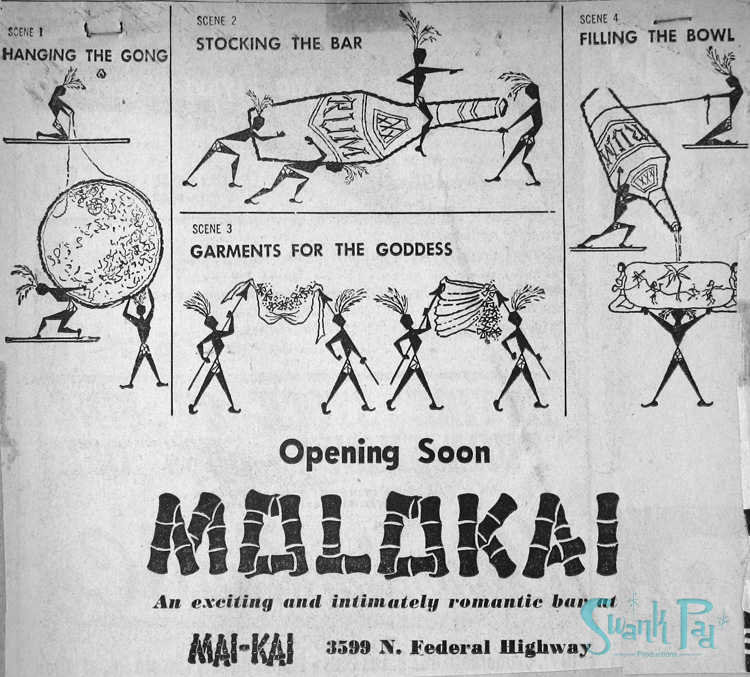 The bar had its own special drink menu.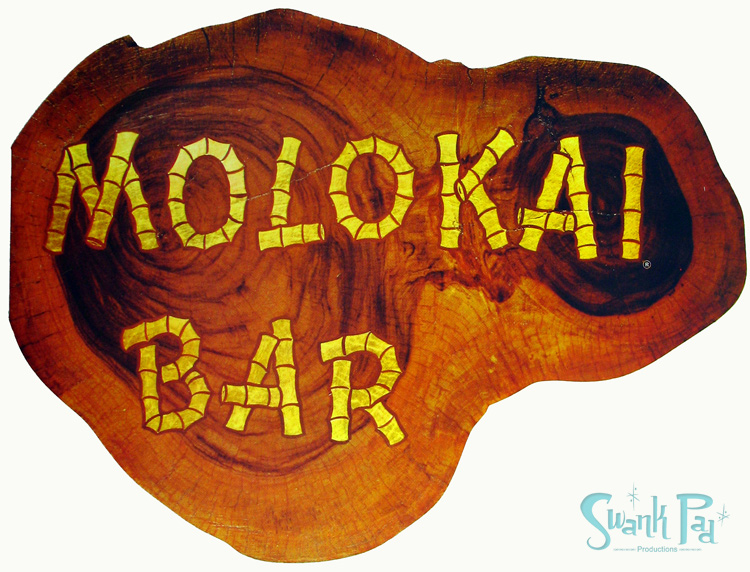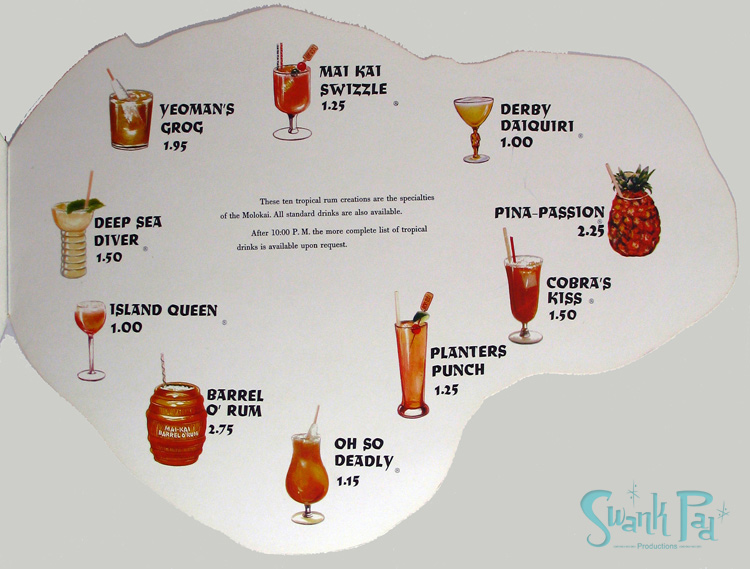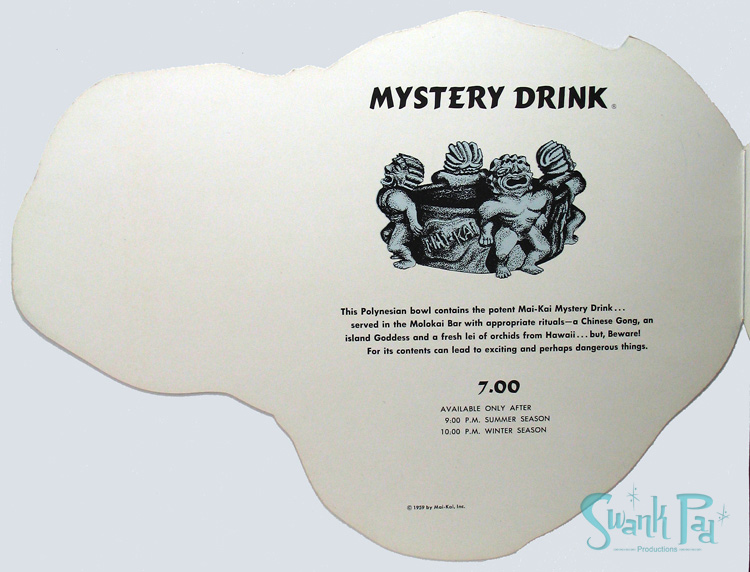 Which reflected the original sign in this never before seen color image from 1960. More of this cache of 80 rare 1960 color images will be shared during my presentation at Hukilau in June.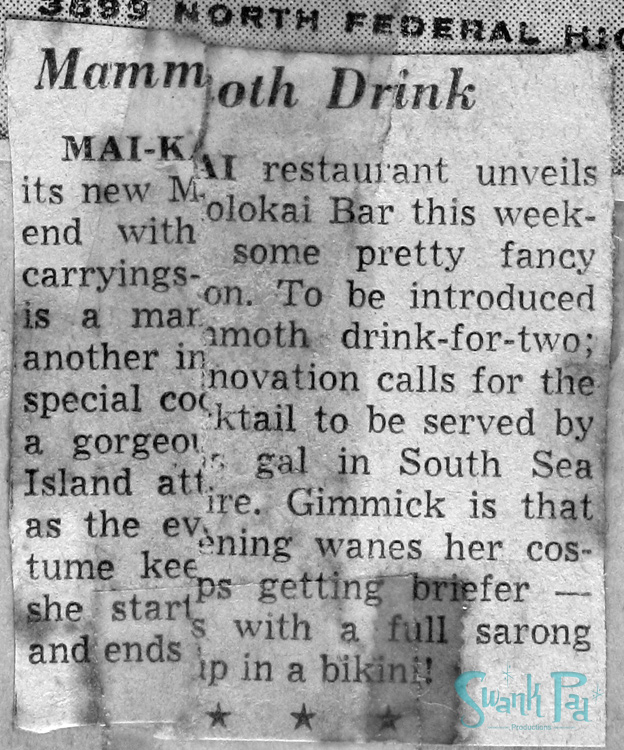 The mammoth Mystery Drink and the Molokai Bar were a hit.
Come celebrate the Molokai's 60th year at the Mai-Kai any time, but at Hukilau especially. I will be sharing stories and new unseen images for the first and perhaps only time during my presentation on Saturday, and on Friday I will be hosting a Mai-Kai hospitality room for free with Mai-Kai legends featured in my book, plus rare ephemera, never before seen video, music, and of course Derby Daiquiris!
Crazy Al has created a Molokai Maiden mug for the occasion. I will have 5 in Mai-Kai blue available to purchase to support my research into the Mai-Kai.
Polynesian Pop-In Facebook event  Free event at the Hukilau.
Bob Van Dorpe: Purveyor and Preservationist of Polynesia Facebook event This presentation is free for Hukilau pass holder thanks to the Mai-Kai's sponsorship. Please RSVP through the Hukilau website HERE.