Swanky's Headshrinker Recipe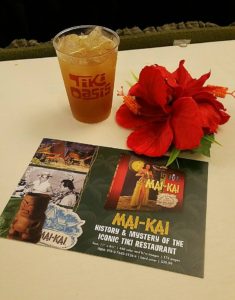 For those who attended my presentation on the Mai-Kai and Don the Beachcomber at Tiki Oasis 2016, here is the cocktail recipe for the drink you were served. I did not oversee the mixing of that drink, so I have no idea how faithful it was to the original recipe. I was a bit stressed and what they made tasted just fine to me, so it was served. I created this recipe many years ago as an homage to the Mai-Kai's Black Magic. It isn't meant to try to be that drink, but I found the mix of pineapple juice and coffee was a good one!
Swanky's Headshrinker
3 oz Pineapple Juice
1 oz Hiram Walker Coffee Brandy or Kahlua or strong coffee, etc.
1/4 oz Lemon Juice
2 oz Zaya or other heavy bodied rum
1/2 tsp Cinnamon Infused Syrup
Lemon Zest garnish
Flash blend with 4 ounces of crushed ice and serve in a snifter.
Recipe and comments can be found on the Grogalizer.